Las imágenes de casos dermatológicos contenidas en este sitio se proveen con un fin educativo e ilustrativo solamente y son propiedad y copyright de Guillermina Manigot y dermlink buenos aires y no pueden ser copiadas ni guardadas ni enviadas ni utilizadas por ningun medio fisico o electronico o de transmision de datos sin contar con la autorizacion escrita de su titular.
Si Ud capta o utiliza nuestras imagenes de casos dermatologicos presentes en éste sitio web sin nuestra autorización, accionaremos legalmente contra Ud. en la justicia.
El uso de nuestros banners está autorizado como modo de incluir un link a nuestro sitio.
--------------------- o ------------------
Dermatology case images provided here are intended for educational and informational use only and are exclusive property and copyright of Guillermina Manigot and dermlink buenos aires and cannot be copied or stocked or saved or utilized by any physical or electronic or data transmision or other means without the specific authorization of its owner. If you capture, save or use the dermatology case images provided in this whole site without our permission, we will prosecute you and raise a case against you at the national courts. Banner use is authorized if you add a them link to our website.
---
CASOS

Click sobre la foto para ver mas detalle
---
demodicosis generalizada

Aqui observamos un caso de la forma severa en un perro adulto - estos casos presentan una piodermia profunda que complica el tratamiento.
generalized demodicosis

Severe generalized form of demodicosis in an adult dog - these cases present a concurrent deep pyodermia , complicating management of the case.
---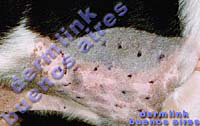 Prueba intradérmica de alergia en vivo - Intradermal skin test in vivo Se mide el tamaño y forma de las ronchas producidas por diversos alergenos inyectados en la piel.

We measure form and size of wheals produced by various allergens injected onto skin.
---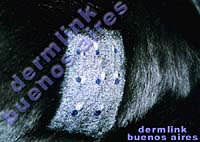 Prueba intradérmica de alergia - Intradermal skin test

La selección de alergenos es limitada a la historia del paciente , en este caso , panel reducido.

Allergen selection is based on patient´s history , resulting in this case in a reduced screen.
---
Prueba intradérmica de alergia - Intradermal skin testing

Aspecto de las ronchas provocadas por los alergenos seleccionados , a los 15 minutos de inyectados.

Wheals produced by the selected allergens , 15 minutes after provocation
---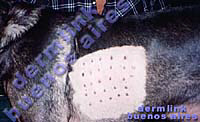 Prueba intradérmica de alergia - Intradermal skin testing

Preparación de la zona donde se inyectaran los alergenos seleccionados según la historia del paciente.

Skin preparation prior to testing . Allergens are selected based on patient´s history.
---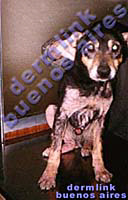 Alergia alimentaria - perro mestizo alérgico a la harina de trigo y al arroz identificado en prueba alimentaria.

Food allergy - dog positive to wheat and rice on food trial.
---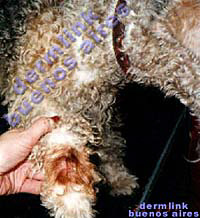 Granuloma por lamido compulsivo en una perra foxterrier pelo duro - la paciente presentaba alergia a aeroalergenos.

Acral lick dermatitis in a wire haired foxterrier dog - dog was allergic to aeroallergens.
---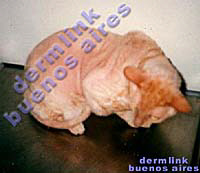 Alopecía psicógena ante stress territorial en un gato macho Cornish Rex.

Psychogenic alopecia in a male Cornish rex cat.
---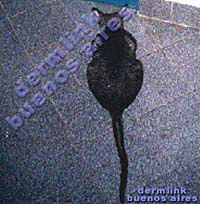 Alopecía - cola de stud en un gato Cornish Rex macho.

Stud tail - rat tail in a male Cornish rex cat.
---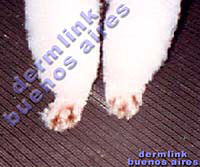 Coloración cobriza de los dedos por lamido en un perro Poodle alérgico.

Staining of coat over feet - allergic Poodle dog.
---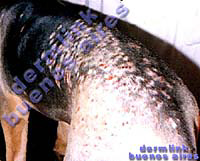 Piodermia profunda del perro ovejero alemán - estadío inicial en un primer episodio.

German Shepherd pyodermia , early stage.
---
Foliculitis - Infección secundaria en un perro Pointer atópico ( alergia a aeroalergenos )

Folliculitis - Secondary infection in an atopic dog.
---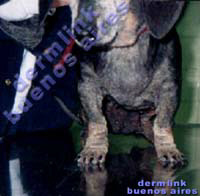 Seborrea - Perra Dachshund con seborrea generalizada.

Seborrhea - Generalized seborrhea in a Dachshund dog.
---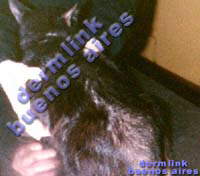 Alergia a la picadura de pulgas en un felino de pelo corto adulto.

Flea allergy in an adult DSH cat.
---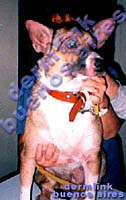 Alergia alimentaria en una perra mestiza - alergia a carne vacuna identificada por prueba dietaria.

Food allergy - dog positive to beef on a food trial.
---
Para mas informacion haga click aqui